Habits That Help You Thrive!
In my earlier blog post I promised that I would unpack my personal habits and give you examples of my high value, low value and time stealer habits. Keep reading to get insights into:
My top 5 high-value habits
Examples of each habit category
High-value habits that you can add
Low-value habits that can be transformed
Time stealers that need to go
Small daily habits are key to living a more satisfying and meaningful life. It's the patterns of our lives that help us to rise or fall. Certain rituals that we establish into our lives can produce some fabulous outcomes. Every pattern in our life starts with either a simple goal or a single habit.
We can change our lives for the better with the addition of some new highly effective habits. There are at least a dozen simple things that we can do every day to make our lives healthier, happier & more effective. 
We are building our lives one day at a time, one hour at a time, one interaction at a time. We build a relationship one conversation at a time. What we do in each moment really matters.
High-value habits reap lifelong benefits if we will just put the effort into making the habit sustain. You could walk briskly for 30 minutes each day. It's great for your body, mind and emotions. Or you could say 'thank you' to your partner twice as much as you do already.
Look for opportunities to show your gratitude. Expressing appreciation is a powerful ingredient for building connection and sustainability. It makes you look for what's good.
It takes little time but it often needs to be an act of your will. Regardless of how you feel, you can make gratitude and appreciation an automatic tool in your tool kit. It may be contagious!
My Morning Ritual
I have found it to be very beneficial to have a morning ritual. Every morning I try to do the same habits to help kick start my day. Perhaps my list could be helpful for you if you tailor it to your priorities. Here are some of my high value habits.
Snuggle with my husband. Don't take his presence for granted.
Make my bed.
Thank God for a new day. I ask for help to make it count.
Do two or more push-ups. Then have a hot or cold shower!
Have a healthy breakfast.
Read or listen to some wisdom each morning. I read the book of Proverbs on my phone.
Don't forget we need some habits to create the fun factor in our lives. Be quick to smile at people. Laugh out loud often. Just let it go when you feel inclined. Say hello to others first. Have a dance in the kitchen while you're cooking dinner or waiting for the jug to boil!
We need energy, humour, and light heartedness to build a better way forward. Know which tricks, tips, and tools help you to get out of a funk. Self-awareness can provide some great self-help.
Some habits are quick to do and highly effective because they provide an immediate reward. Perhaps you want to start small and choose one or two things from my 'speedie habits' list.
My Speedy Five
Take three deep breaths twice daily. Most people forget to fill their lungs as deeply as possible.
Take six minutes of silence to clear your head and de-stress. Set a timer on your phone.
Do one minute of stretching each hour. Your body loves it and you become more alert and flexible.
Do something aerobic for 20 seconds. Get your heart rate up quickly. Eg. run up a flight of stairs.
Have a six second kiss! It's good for everything!
Adding new positive habits to your life may not be where you are right now. Recognise what your 'low value habits' or 'time stealers' are and start removing them. It can be just as beneficial to make it a habit to stop doing something that robs you of energy or time.
My Low value habits
Talking longer than necessary on the phone.
Trying to make my house and my hair perfect!
Worrying about what I wear without putting in some preparation.
Hanging all the washing on the line.
Buying clothes that need ironing.
Ironing!
Listening to the radio or the news more than once a day.
Reading the paper for educational purposes!
Time stealer Habits
Sleeping in for no good reason.
Watching a TV show or series that adds nothing to my life.
Having a pity party with myself instead of a problem-solving session. (or a praise session, which usually works best!)
Being late. It takes the enjoyment out of the present moment.
I am trying to work on adding some new habits to my life right now. Here are some of the goals I am working on.
My High Five
Write a 'To Do' list for tomorrow.
Do 10 minutes of bringing order into my world. It may be my desk, my office or my home.
Express gratitude. Call someone I love and tell them
Take a 30 min walk. Preferably by the water or in a park. There are high benefits in being surrounded by nature.
Eat 2 fruit and 5 veggies. I'm prone to eat 5 fruit by breakfast!
It's pretty important to know what really matters for you and do it regularly. Add more high-value habits into your life and reduce your number of low value habits.
Some habits build nothing! High value habits help you build a more satisfying life. Your high value habits are not time stealers. They are the building blocks of your future; an investment of time and effort to create the future you want.
This was my list of daily goals written at age 18. My mother still reads it daily as she has kept it on the back of her kitchen door. Let me know what you think of it!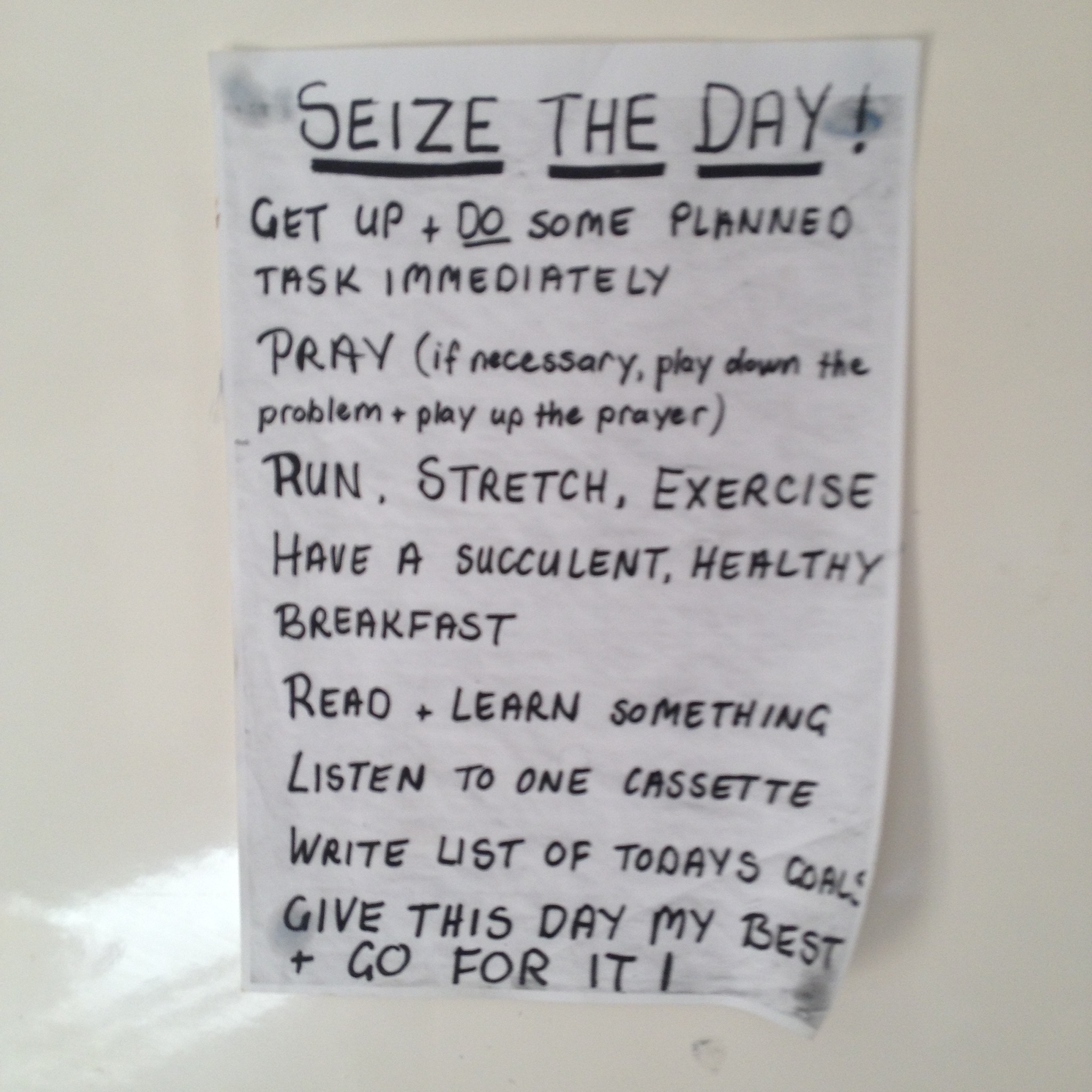 Posted in Inspirational Messages, values, change on Jul 23, 2019
Get in Touch with Lisa
Contact us using the Form below.
Our Headquarters
Melbourne, Australia
LinkedIn
Connect with Lisa